A couple weeks ago I posted a list of the things I give away for free, but since that time I've added another one: my new eBook on how to start that blog or website, as well as resources I use that you'll find useful.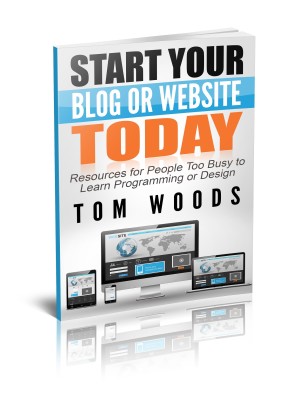 Get it in PDF, EPUB, or Kindle formats. (And here's my short, step-by-step video walking you through the process of starting your blog.) In this free eBook, you'll learn:
how to get your brand new blog up and running in just five minutes

how to start your website without learning design or programming

ways I've earned money online

how to give your website a snappy domain name, when so many are already taken

how you can use your website to increase your job security

what landing pages are, and how you can use them to promote yourself

how to get people coming back to your site again and again

how I create free eBooks to maximize signups to my email list

how I'm able to tell an audience, "Text LIBERTY to 33444 to get my free eBook and weekly letter"

discount codes to help you save money along the way

and much more
Again, you can get the book in PDF, EPUB, or Kindle formats, and don't forget my step-by-step video that gets your blog up and running in five minutes. Enjoy!