On this page I refer you to resources that have helped me, whether with regard to libertarianism, podcasting, or website design and functionality. This is also where you can find the resource pages that accompany many of my videos. Disclosure: some of these links are affiliate links, which means I earn a small commission if you purchase some of these products. I don't recommend anything I don't have experience with myself, though, and I list these resources because I am confident you will find them as useful as I have.
I'm going to start off with products and services I've recommended on my podcast, since I've had a lot of people asking for one location where they can find them all. So….
PRODUCTS AND SERVICES RECOMMENDED ON THE SHOW
Here are our most recent sponsors.
CrowdHealth is a community of people who are tired of paying for a broken system. A place where you can get a simple, flexible, and affordable way to pay for your healthcare. Being in the CrowdHealth community can save hundreds of dollars monthly and put thousands of dollars back in your pocket. Save 50% for the first six months at JoinCrowdHealth.com/woods, using code WOODS.
Persist SEO. Getting clobbered by your competitors? Invisible in the search engines? Your leads at a trickle — or nonexistent? Persist SEO can turn that all around for your business. Check them out at ineedseo.help.
Blinkist lets you read (or listen to) the key lessons and takeaways from thousands of nonfiction books in 15 minutes or less. Get a 7-day free trial and 25% off a Premium membership at Blinkist.com/woods.
Rocket Languages. Learn another language while driving your car, with this effective software that'll save you money over the big names.
The Tuttle Twins: Libertarian children's books series.
Policy Genius. At Policy Genius, you can get quotes and compare rates on life insurance, disability insurance, renters insurance, and health insurance. It's easy! Check it out: PolicyGenius.com.
LIBERTARIANISM
RESOURCES: THE BASICS
LewRockwell.com. I check LewRockwell.com every day, as does Ron Paul.
Mises Institute. My intellectual home. I owe the Mises Institute an enormous debt for everything I've learned from its books, events, and online resources.
David Stockman's Contra Corner. David Stockman puts out so much great material every day. You'll learn a lot, and you'll stay informed about current events. Visit just once and you'll see what I mean.
HOMESCHOOLING
Ron Paul Curriculum. The gold standard in homeschooling. I produced several courses for this program. Join through this link and I'll send you $160 in free bonuses! Or if you want my courses without joining the whole curriculum, you can get them by clicking here.
BOOKS
These are the books I'd recommend someone read in order to get the most bang for their buck in terms of learning as much as possible in the least amount of time.
Economics in One Lesson, by Henry Hazlitt. Important for beginners. You can read it online. Also useful for beginners is Peter Schiff's book How an Economy Grows and Why It Crashes.
The Revolution: A Manifesto, by Ron Paul. This is another good one for beginners. It has a good track record as a proselytizing device.
Democracy: The God that Failed, by Hans-Hermann Hoppe. Just read it. Trust me on this.
The Quest for Community, by Robert Nisbet. Here is a graduate course in political philosophy. Except in this one, the state is not the glorious summit of civilization and the indispensable source of human flourishing. As the new edition explains, "Nisbet argued that the rise of the powerful modern state had eroded the sources of community—the family, the neighborhood, the church, the guild. Alienation and loneliness inevitably resulted. But as the traditional ties that bind fell away, the human impulse toward community led people to turn even more to the government itself, allowing statism — even totalitarianism — to flourish."
The Left, the Right, and the State, by Lew Rockwell. Lew (who of course runs the indispensable LewRockwell.com) did the world an incalculable service with the founding of the Ludwig von Mises Institute, but he is grossly underrated as a thinker in his own right. He has extended Rothbardian thought in numerous ways, and has influenced my own thinking more than almost anyone in the world.
The Austrian Theory of the Trade Cycle and Other Essays. Features essays by Ludwig von Mises, F.A. Hayek, Gottfried Haberler, and Murray N. Rothbard. An effective introduction to the Austrian theory of the business cycle.
What Has Government Done to Our Money? by Murray N. Rothbard. An excellent little overview of the origin of money and its fate at the hands of government.
The Problem of Political Authority: An Examination of the Right to Coerce and the Duty to Obey, by Michael Huemer. Don't let the dull title fool you. This book is comprehensive, original, exciting, and very convincing. It is a relentless assault, by a philosopher, on the standard arguments for government. Not one of them is left standing.
Egalitarianism as a Revolt Against Nature and Other Essays, by Murray N. Rothbard. The quality of the essays in this book is astounding. You will not think the same way ever again after reading "Anatomy of the State" and "War, Peace, and the State," to name just two.
After you read these, I recommend the following:
A Theory of Socialism and Capitalism, by Hans-Hermann Hoppe. Hoppe's books put everything together for me.
The Economics and Ethics of Private Property, by Hans-Hermann Hoppe. This book blew me away when I first read it. Its title makes it sound dull. It is one of the most intellectually exciting books I have ever read.
Man, Economy, and State: A Treatise on Economic Principles, by Murray N. Rothbard. This one, and the two that follow, are for the especially ambitious. This is a systematic exposition of Austrian economics. The sheer elegance of the Austrian system is on impressive display here.
Human Action: A Treatise on Economics, by Ludwig von Mises. (Some disagree with me, but I favor beginning with Rothbard before moving on to Human Action.)
Money, Bank Credit, and Economic Cycles, by Jesús Huerta de Soto. Here is the Austrian theory on money, banking, and business cycles, presented in systematic fashion, and compared with the Chicago and Keynesian alternatives. I have a friend who was so impressed by this book that he learned Spanish so he could pursue his Ph.D. under the author in Spain.
The Great Deformation: The Corruption of Capitalism in America, by David Stockman. Much more than a thorough demolition of the case for the bailouts in the wake of the 2008 crisis, this book is a sweeping revision of twentieth-century economic history. Fantastic.
I could name other books, naturally, but to my mind these are the absolutely indispensable ones.
I wrote my own books in order to pack the greatest punch per page, so that the reader will learn as much as possible. Whatever else you might want to say about my books, there's no filler in them. As part of your reading program, I particularly recommend my books 33 Questions About American History You're Not Supposed to Ask, The Politically Incorrect Guide to American History, Meltdown (on the financial crisis, featuring a foreword by Ron Paul), Nullification, Rollback, The Church and the Market (which is a good intermediate book between Hazlitt and Mises), and Real Dissent.
THE WOODS RESOURCE PAGES
Back in the days when I had more time to record YouTube videos, I used to refer people to resource pages where they could learn more about the topic discussed in the video. People have asked me to assemble those in one place, so here they are.
Learn Austrian Economics
(The Austrian School of economics, which boasts such greats as F.A. Hayek, Ludwig von Mises, and Murray Rothbard, is enjoying a renaissance. This link will help you get started on your program of self-education.)
No, World War II Was Not Good for the Economy
Presidential War Powers: What Does the Constitution Say?
What the Constitution Says About Money
An Introduction to Sound Money
The Great Depression: Who Was Right?
State Nullification: What Is It?
Nullification: Answering the Objections
Economic Cycles Before the Fed
War: Big Government's Best Friend
Austrian Business Cycle Theory: Answering the Critics
Inflation, Deflation, and Money
PODCASTING
Podcasters' Paradise. If you want a systematic, step-by-step resource showing you absolutely everything you need to know to create, grow, and monetize your podcast, plus access to an exclusive community of knowledgeable podcasters who want to help you succeed, Podcasters' Paradise is the place. I know: I am myself a member.
It isn't cheap. But it is absolutely everything you need, and you learn from one of the best — John Lee Dumas, who earns a six-figure monthly income that's driven by podcasting. Click here to join. And click here for a free podcast course that will get you up and running.
Libsyn. You'll need hosting for your podcast episodes. I just switched to Libsyn. The price is right, it's dependable, and its episode download statistics are considered reliable by sponsors.
INTERNET RESOURCES I USE
Remember to download my free eBook, Start Your Blog or Website Today: Resources for People Too Busy to Learn Programming or Design. Get it in PDF, EPUB, or Kindle.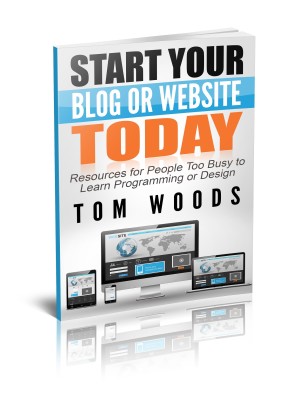 HOSTING
You'll need a hosting company if you plan to start a website or blog. Here are two I recommend:
Bluehost. If money is a key issue for you, and you're just getting started, Bluehost will do the trick. Use my link and I'll send you two dozen free WordPress tutorials for the asking. (Click here to request them once you've signed up with Bluehost.)
Here's my step-by-step video showing you how easy it is to get your new blog up and running, using Bluehost, in just a few minutes:
WP Engine. For TomWoods.com, I use WP Engine. It's more expensive, but you get what you pay for. It is absolutely reliable.
Use my link and I'll send you two dozen free WordPress tutorials for the asking. (Click here to request them once you've signed up with Bluehost.)
WEB DESIGN
Studio 1 Design. I use them for all of my websites, the occasional eBook cover, the T-shirts we made for the Contra Cruise, and other projects. They're efficient and their work is of high quality. And if you visit them via my link, they'll give you four free social media banners.
LeadPages. Not the same thing as web design, but LeadPages is how I painlessly designed RealDissent.com. They have tons of templates for landing pages like that one, but also so much more, including opt-in boxes for your mailing list, and a whole lot more. Absolutely worth checking out.
NEED A FREELANCER?
Fiverr. You'll have fun just browsing through this site, where valuable (and in some cases, highly unusual and amusing) services are offered in five-dollar units. For example, I needed a simple, sleek cover for a free eBook I was giving away. Someone on Fiverr designed this cover for me for $5. I felt guilty, so I clicked on the option to tip him another $5.
Upwork. Here you can post a job and have people from all over the world bidding on it within minutes. I've had audio work, website work, transcriptions, and a bunch of other things done through Upwork freelancers, and I've had very good experiences. It's really amazing.
ACCUMULATE AN EMAIL LIST
Anyone involved in Internet marketing will tell you to start an email list, so you can contact people after they've visited your site and not lose them forever. Here are two possibilities.
MailChimp. I use MailChimp for one of my newsletters and Aweber for another. If your email list has fewer than 500 addresses on it, MailChimp doesn't cost you anything. Join through this link to get a free $30 credit from Mailchimp.
OptInMonster. This is a fantastic resource for increasing the number of people who choose to subscribe to your newsletter. I use it on this site. When it detects that someone is about to leave your site, a popup comes up to capture the person's email address (and in my case to offer a free eBook).
AUDIOBOOKS
I hate wasting time, so I love audiobooks. You're entitled to one free audiobook from Audible via TomWoodsAudio.com. They have several of my books there, including The Politically Incorrect Guide to American History, Nullification, Rollback, and Real Dissent (I narrate that one myself).