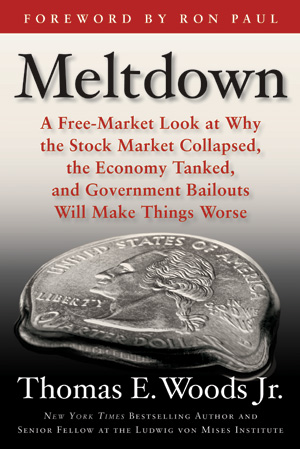 Get Your Free AudiobookTen weeks on the New York Times bestseller list!
Winner, 2009 George F. Koether Free-Market Writing Award
Click here to order from Amazon.
Click here to order from Barnes & Noble.
Click here to order the audiobook.
Click here to order the Kindle version.
Meltdown has been translated into Japanese, Czech, Korean, and Chinese.
"A must-read. Writing with remarkable clarity and occasional mordant humor, Thomas Woods makes a compelling argument for a radical turn to the free market as the only way to prevent meltdowns from recurring."
–Barron's
"Very convincing." –Claremont Review of Books
"An excellent reading source for anyone interested in financial markets, and much more so for anyone interested in learning about capitalism without all the misinterpretations being thrown about in the financial media." –Asia Times
From the foreword by Ron Paul:
"We can probably expect an avalanche of books in the coming months that purport to tell us what happened to the economy and what we should do about it. They'll be dead wrong, and most of the advice they provide will be dreadful. You can count on that.
"That's why Meltdown is different. This book actually gets things right. It correctly identifies our problems, their causes, and what we should do about them. It treats the architects of this debacle not with the undeserved reverence they receive in Washington and on television, but with the critical eye that is so conspicuously missing from our supposedly independent thinkers in academia and the media. Tom Woods reserves his admiration for those few who, unlike the quacks who would instruct us now, actually saw the crisis coming, have a theory to explain it, and can show us the way out.
"In a short span, Tom Woods introduces the layman to a range of subjects that have been excluded from our national discussion for much too long. Topics our opinion leaders thought they'd buried forever, or never heard of in the first place, are suddenly back, and not a moment too soon. This book is an indispensable conduit of these critical ideas….
"Ideas still matter, and sound economic education has rarely been as urgently necessary as it is today. There is no better book to read on the present crisis than this one, and that is why I am delighted to endorse and introduce it."
Related links:
Foreword by Ron Paul
Austrian Economics Reading List (as promised in the appendix)
Review by Economic Policy Journal
Review by Barron's
Review by the Washington Times
Review by Prof. Murray Sabrin
Review by CBS News.com
Feature by MarketWatch
Feature by United Press International (UPI)
Review by the Orange County Register
"Murray Rothbard Would Have Been Proud"

Interview with Financial Sense Newshour (mp3)
Funny (and brief) video interview with Young Americans for Liberty