We just concluded the second in-person meeting of the Tom Woods Mastermind, this time in Chicago, October 13-14.
We were slightly shorthanded due to illness, but it was fantastic all the same.
At each of our meetings we spend two days intensely working on everyone's businesses, sharing our collective knowledge in order to catapult everyone in that room to a new level of success.
(In between the in-person meetings we have a private group so we can keep in touch, and we meet on Zoom every month for more training, and updates on everyone's progress and challenges.)
I'm all for the "work hard, play hard" philosophy, so we enjoy great food and entertainment, too.
Some pics:
Plenty of opportunity for individual attention inside our elite group! We meet inside my presidential suite.
For Saturday's dinner we dined in the private room at NoMI, a high-end restaurant near our hotel.
Headed out for the evening for a performance of Drunk Shakespeare!
Both of our teams escaped both rooms!
Now here's what I wrote after our first meeting:
We just finished the first in-person meeting of the Tom Woods Mastermind in New York City. Every participant is heading home with his mind blown, and ready to generate the results he'd been hoping for but been unable to reach so far.
You won't get platitudes from us about waking up early in the morning or meditating for 10 minutes a day. This is specific, actionable guidance for you in your particular situation, intended to generate dramatic results. It's a small group so you can get plenty of individual attention.
We're not interested in growing by five percent. We're interested in moving everyone up to the proverbial next level, where they — you? — dream of being, but can't quite get there on their own.
Here's a glimpse at our meeting in New York:
We held our meetings in my hotel room at the beautiful and historic Lotte New York Palace.
You can probably tell which one is the great, energetic and brilliant Marlon Sanders — who before participants had even arrived home had already sent everyone a 26-page memo on their exact action steps. (More on that below.)
The view from our window.
Friday's dinner was held at Churrascaria Plataforma, a Brazilian restaurant that brings all the meats to your table and carves them in front of you.
Self-explanatory.
I took the whole mastermind to see The Play That Goes Wrong, and everyone laughed for a solid two hours. (Food and entertainment are included in the membership.)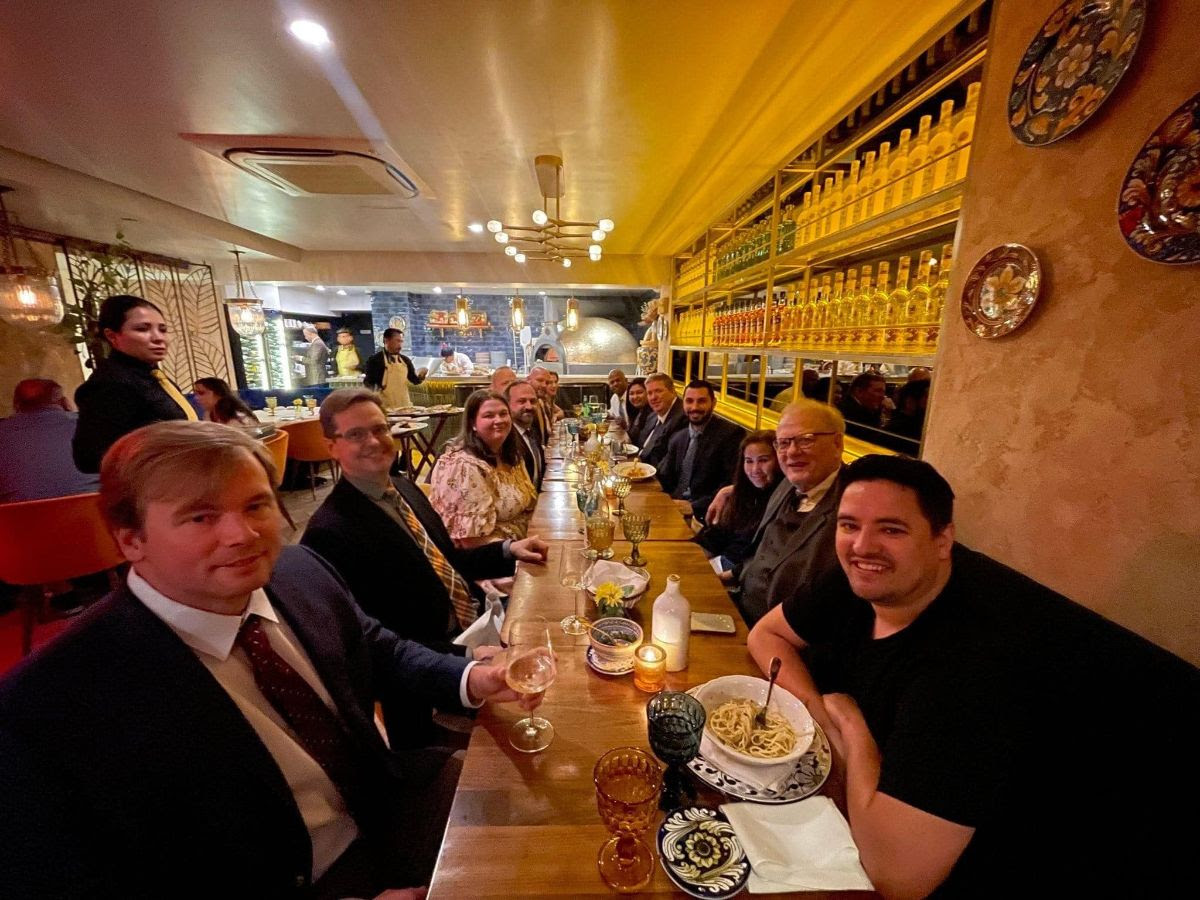 Excellent Italian meal at Casa Limone.
I took everyone to see Steve Cohen, the "millionaires' magician," who performs on weekends at the Lotte. (No photography allowed, but I'll mention that five of our group participated in the show in one way or another.)
While most people were still on their way home (and some hadn't even left for home yet), Marlon had already written a 26-page memo of action steps for all participants. It began like this:
This isn't for beginners, and it isn't cheap (no serious mastermind is). I need to emphasize that. It's expensive, especially if you've never priced a mastermind before. But for smart and ambitious people who want rapid growth, it's a group of sharp, like-minded folks whose collective knowledge can help get you there, and it can generate ten, even one hundred times the investment.
Not to mention: we're all good friends.
Are you the right person?
If you think you may be, please send me the following:
(1) What your business does
(2) Your annual revenue
(3) Your goals and obstacles
(4) What you've tried so far to reach your goals and/or overcome your obstacles (if the answer is "nothing," that's all right; no judgment here)
(5) What you can contribute to the mastermind, and what you hope to get out of it.
If you're a fit, I'll be delighted to extend an invitation to you.
Please submit your information to me via email at woods@mises.org.