Robert Reich keeps on making consistently fallacious but widely viewed short videos on economic topics. His video demanding a $15 minimum wage is a case in point. Thankfully, you have this episode to help you fight back.
About the Guest
Robert P. Murphy holds a Ph.D. in economics from New York University. He is the author of numerous books (see below), including study guides to Ludwig von Mises' Human Action (study guide here) and The Theory of Money and Credit (study guide here), and Murray Rothbard's Man, Economy, and State (study guide here).
Sponsor
SchiffGold is where I get all my precious metals — everyone there is knowledgeable, efficient, and reliable. They're having a special sweepstakes exclusively for Tom Woods Show listeners: enter to win a one-ounce Canadian Maple Leaf gold coin, worth about $1200! You don't have to buy anything to enter. Click here to enter, and good luck!
Guest's Blog
Books by the Guest
Lessons for the Young Economist (free textbook; click here for a free teacher's manual)
Chaos Theory (available free)
Understanding Bitcoin (with Silas Barta; available free)
The Politically Incorrect Guide to Capitalism (also available as an audiobook)
The Politically Incorrect Guide to the Great Depression and the New Deal (also available as an audiobook)
Get Your Free Audiobook
Guest's Twitter
Guest's Facebook
Article Discussed
"Robert Reich Shills for $15 Minimum Wage," by Robert P. Murphy
Video Discussed
"The Big Picture: Fight for $15 with Robert Reich"
Article Mentioned
"Economists Debate the Minimum Wage," by Robert P. Murphy
Related Episodes
Ep. 256 The Truth About the Fast Food Protests (Diana Furchtgott-Roth)
Ep. 81 Raise the Minimum Wage? (Bob Murphy)
Ep. 33 That Australian Minimum Wage (Dr. Ben O'Neill)
Related Video
I can't remember if I turned this video into an episode or not, but at the very least, here's a video in which I spend some time explaining what makes wages rise.
Special Offers
I've just released a brand new, free eBook: Start Your Blog or Website Today: Resources for People Too Busy to Learn Programming or Design.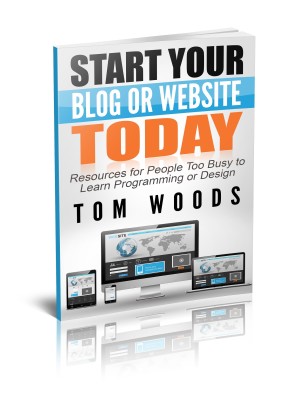 It's full of neat things I use that have helped me make a living online. Get it in PDF, EPUB, or Kindle versions — and check out my video that shows you how to start your blog in just five minutes!
We've just added our 13th course at LibertyClassroom.com! Learn the history and economics they didn't teach you, from professors you can trust and in courses you can listen to anywhere. Take 30% off a year's subscription — which gets you everything we have! — with coupon code SHOW (all caps).